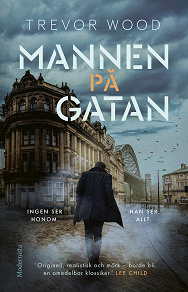 Isbn:
978-91-8023-196-1
Publisher:
Modernista
Category:
Crime & Mystery
Accessible since:
February 2022
---
Mannen på gatan
»En thrillerdebut som kommer att ta Sverige med storm.« Monica Lindgren, SVT Go kväll
»Första boken i ny brittisk deckarserie med socialrealistiska inslag.« Lotta Olsson rekommenderar Mannen på gatan i DN
»Wow, vilken bok! Spännande, mörk och originell, med ett högt tempo ända in i mål.« Bokprataren
När Jimmy, en hemlös veteran som kämpar med posttraumatiskt stressyndrom, hör ljudet av något tungt som faller i floden - mitt under ett högljutt gräl mellan två män - försöker han först låtsas att han inte hört något. Det är inte hans strid.
Men när han får syn på en tidningsrubrik om en flicka, Carrie, vars pappa försvunnit, och anar att det kan vara samma man, påminns han om någon han själv förlorat. Jimmy bestämmer sig för att sluta fly sitt förflutna och berätta för flickan vad han hörde. Det visar sig bara vara början på historien.
Polisen lägger ingen vikt vid Jimmys vittnesmål, men Carrie är övertygad om att något hemskt har hänt hennes pappa. Jimmy går med på att hjälpa henne - något som försätter honom i allvarlig fara i förhållande till både gamla och nya fiender.
Men Jimmy har en fördel: när man inte har något, har man inte heller något att förlora...
I svensk översättning av Jessica Hallén.
TREVOR WOOD är en brittisk författare, bosatt i Newcastle. Han har tjänstgjort inom den brittiska flottan i 16 år, har en mastersexamen i kreativt skrivande och har även arbetat som journalist. Mannen på gatan är hans hyllade thrillerdebut, som vunnit en CWA John Creasy Award, Specsavers Best Crime Debut Award och nominerats till Theakston's Old Peculier Crime Novel of the Year.
»Originell, realistisk och mörk - borde bli en omedelbar klassiker.« Lee Child
»Det kan vara så att jag just läst årets bästa deckare. Trevor Wood knockade mig fullständigt!« Kicki bokmal 
»En mörk thriller med ett slut jag inte väntat mig. En bok att sträckläsa!« Stinas boksida
»Perfekt tempo och nervkittlande upplösning. En lysande thriller.« M. W. Craven
---