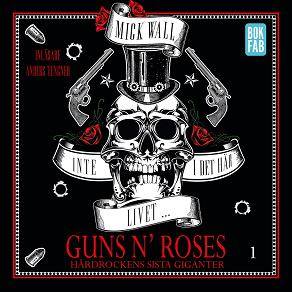 Isbn:
978-91-7629-726-1
Publisher:
Bokfabriken
Category:
Memoirs & Biography
Accessible since:
September 2017
Narrator:
Anders Tengner
Length: 7 hours 30 minutes
---
Inte i det här livet … Guns N' Roses - Hårdrockens sista giganter Del 1
DET HAR SKRIVITS MYCKET OM GUNS N' ROSES, men inte förrän nu har någon kommit åt sanningen om dem. Guns N' Roses är de sista giganterna inom hårdrocken, och de är vad varje band sedan Rolling Stones har försökt vara - farliga. I en tid när det ständigt leende och MTV-vänliga bandet Bon Jovi var världens största band, så fanns det ett hårdrocksband som verkade komma direkt från det sena 60-talets rockscen med allt som hör därtill. Live like a suicide, brukade bandet skrika från deras ökända hem Hell House i LA, där Mick Wall också träffade bandet för första gången. Mick Wall blev snabbt en del av deras närmsta krets, fram tills att Axl Rose häcklar honom i låten Get in the Ring. Men denna bok handlar inte om smutskastning, utan är en hyllning till både Guns N Roses och frontmannen Axl Rose, musikern som verkligen är vad vi vill att han ska vara den egendomliga rockstjärnan med attityden att aldrig be om ursäkt, förklara sig eller ens bryr sig. Den sista av sin sort, helt enkelt.
Listen to sample
---